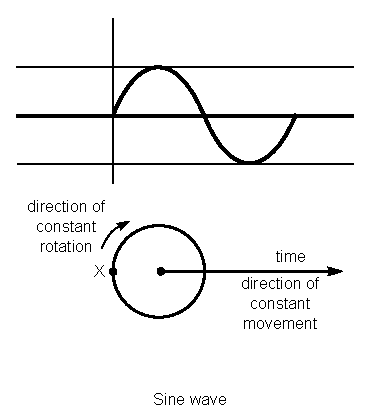 My week resembles the above sine wave diagram. The top image represents the high's and low's of the week while the bottom image represents that a bicycle wheel rotates and that time waits for no one. Regardless of your high's and lows, things move forward.
This past week at my day job, we launched some new products. Honestly, at least in my opinion, the 3 new products are all really, really cool. This was the high point. I've been part of this annual product launch pushed by our industry for something like 4 years now. Every year I learn something. Every year something new surprises me.
This leads me to the low point. Last Thursday, someone told me on the phone that I stole all his good ideas. I've never been called a thief before and frankly, it hit me hard. I'm not going to go into the details here but I will say that it saddened me a great deal. I have worked with this person before and frankly, other than a similar passion for bicycles, our worlds, our beliefs and the products we make for our companies could not be further apart. On top of that, we make products that make his product better. I thought it was a symbiotic relationship. I thought wrong.
I do believe that the issue will die away. I have spoken to the person and told him I'm disappointed in him & a bit shocked. I also told him where and how we got to the solution and the final design & product. I was truthful. I was honest. Who knows if he believes me?
Thankfully, I do not need to work with this person. Thankfully, he is not the one who judges me. Thankfully, I know where every idea came from for the design he accused me of stealing. Thankfully, I don't work with him and I am doubtful I ever will. I will say that I no longer want one of his frames in my bike collection. Too bad, they are pretty cool bikes.
In the end, time and things keep moving forward. Tomorrow, next week, next year this will be forgotten and I'll be riding my bike somewhere amazing.